Japanese Mellow 1975-2012
My interest in the cover art of Hiroshi Nagai started with the series of Tower Records 40th anniversary compilations from 2019 (Japanes Mellow, Japanese Groove, and AOR Edition) and others, like the Pacific Breeze: Japanese City Pop cover below.  Also explore more of his art in the Pinterest link below.
VA: Pacific Breeze: Japanese City Pop, AOR and Boogie 1976-1986 (Light In the Attic Records)

This from the press release:
Pacific Breeze documents Japan's blast into the stratosphere. By the 1960s, the nation had achieved a postwar miracle, soaring to become the world's second largest economy. Thriving tech exports sent the Rising Sun over the moon. Its pocket cassette players, bleeping video games, and gleaming cars boomed worldwide, wooing pleasure points and pumping Japanese pockets full of yen.
"Japan's financial buoyancy also permeated its popular culture, birthing an audio analog called City Pop. This new sound arose in the mid '70s and ruled through the '80s, channeling the country's contemporary psyche. It was sophisticated music mirroring Japan's punch-drunk prosperity. City Pop epitomized the era, providing a soundtrack for emerging urbanites. An optimistic spirit buzzed through the music in neon-bathed, gauzy tableaus coated with groove-heavy strokes.
Pacific Breeze is an expertly compiled collection of choice cuts that range from silky smooth grooves to innovative techno pop bangers and everything in between. Long-revered by crate diggers and adventurous music heads, this music has never been released outside of Japan until now. Including key artists like Taeko Ohnuki and Minako Yoshida, as well as cult favorites Hitomi Tohyama and Hiroshi Sato, the long-awaited release also features newly commissioned cover painting by Tokyo-based artist Hiroshi Nagai, whose iconic images of resort living have graced the covers of many classic City Pop albums of the 1980s.
Many of the key City Pop players evolved from the Japanese New Music scene of the early '70s, as heard on Light In The Attic's acclaimed Even a Tree Can Shed Tears: Japanese Folk & Rock 1969-1973, the first release of the ongoing Japan Archival Series. In fact, you could say City Pop set sail with a champagne smash from Happy End, the freakishly talented subversives who included amongst their ranks Haruomi Hosono and Shigeru Suzuki, both featured on this compilation. As Michael K. Bourdaghs noted in his book, Sayonara Amerika, Sayonara Nippon, this music was, "Deconstructing the line between imitation and authenticity." Some of the best City Pop teeters in this zone—easy listening with mutant exotica, tilted techno-pop, and steamy boogie bubbling beneath the gloss."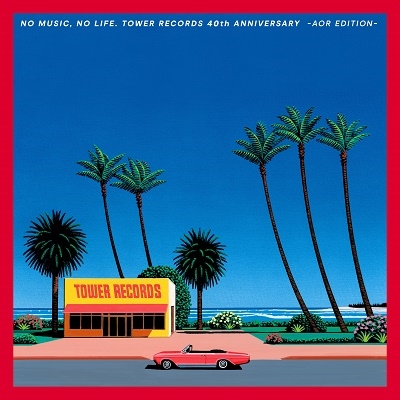 AOR Edition
"NO MUSIC, NO LIFE. TOWER RECORDS 40th ANNIVERSARY"
This compilation was compiled commemorate the 40th anniversary of 
Tower Records entry into Japan. 

Here, Tower Records buyers selected 40 gems
that are loved across eras and genres. 

The target age is not limited to the last 
40 years, but since 1960, when Tower Records was 
founded in the United States. 

From Elvis Presley's "I Can't Help You Like It" (1961) to Sam Smith
"Stay With Me." (2013) The songs have been selected by the audience
to reflect the nostalgia of the times.
Japanese Groove 1977-2006
…and more to explore here...