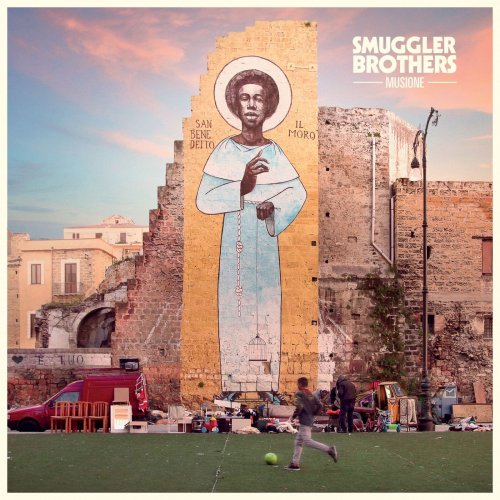 Super gritty Italian psych-funk, fit for any young director's action sequence.
This from Schema Records
"The story of Smuggler Brothers starts in Palermo, the principal town of Sicily, in late 2011. Founded by three friends, musicians active in the fertile underground music scene of the city, the band aims to experiment new artistic directions, combining a diverse set of influences ranging from Italian soundtracks and Library music from the '60s and '70s to African-American music, with groove as the core essence of the band. From the initial nucleus, the band evolved soon into a 8-piece combo.
Following an exciting period spent rehearsing and honing their sound, Smuggler Brothers started an intense live activity, gaining the enthusiastic support of the local scene. In 2015 the band felt it was time to record their music – their self-titled debut album was recorded at Zeit Studio in Palermo, 15-tracks that were pressed on limited edition vinyl and released via Tone Deaf Records. Shortly after their album tour, the band sufferred a period of instability – the departure of some players slowly weakened the structure of the group, forcing the surviving band members to interrupt the live activity and reflect on the future of the project.
2017 saw the band coming back to life and entering a new phase – with a renewed 5-element structure and a clear plan, the group started to work on new music and perform on stage again. At the end of that same year the Milan-based record label Schema Records decided to put Smuggler Brothers under a contract. The label interest and the artistic direction of Massimo Martellotta (Calibro 35) pushed the band forward: in October 2018 the Sicilian brothers eventually landed in Milan to record at Schema Records' Blue Spirit Studio."